[PlayStation] Mise à jour du PlayStation Store de la semaine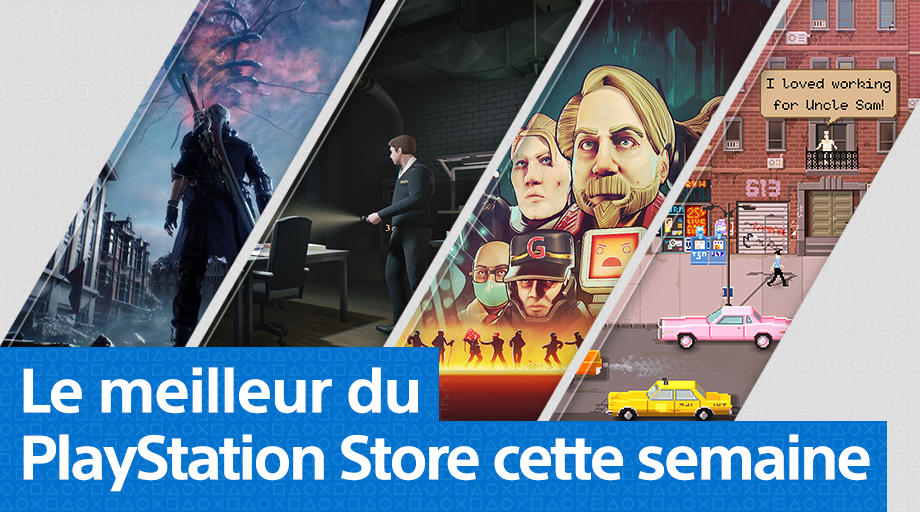 Vous allez vous mettre en chasse et traquer démons et humains dans les sorties de cette semaine du PlayStation Store. Repoussez un déferlement de démons venus des tréfonds de l'Enfer dans Devil May Cry 5, traquez un terroriste dans The Occupation, ou débarrassez-vous d'une infestation d'humains dans Attack of the Earthlings.
Quel que soit l'ennemi que vous décidez de combattre cette semaine, assurez-vous de consulter la liste complète des sorties de la semaine, puis de vous rendre sur le PlayStation Store pour en savoir plus.
Sorties de la semaine
PS4
BugsBox VR
le 4 mars
Doodles&Gnomes Gardens Bundle
le 4 mars
Gnomes Garden 3 in 1 Bundle
le 4 mars
HexaMaze
le 4 mars
The Occupation
le 5 mars
Attack of the Earthlings
le 5 mars
Beat Cop
le 5 mars
Eternity: The Last Unicorn
le 5 mars
Melbits World Collector's Pack
le 5 mars
Move or Die
le 5 mars
Melbits World Demo
le 5 mars
Crimson Keep
le 6 mars
Daggerhood
le 6 mars
I and Me
le 6 mars
Devil May Cry 5
le 8 mars
Puyo Puyo Tetris
le 8 mars
Caretaker
le 8 mars
Phar Lap – Horse Racing Challenge
le 8 mars
PS4 DLC
le 4 mars
RIDE 3
le 5 mars
Shadow of the Tomb Raider
Assassin's Creed Odyssey
Gran Turismo Sport
Mazda Eunos Roadster (NA Special Package) '89
McLaren F1 GTR – BMW (Kokusai Kaihatsu UK Racing) '95
le 6 mars
TERA
V-Rally 4
le 7 mars
DYNASTY WARRIORS 9
Additional Weapon 'Tripartite Nunchucks'
Additional Weapon 'Tooth & Nail'
Additional Weapon 'Crossed Pike'
le 8 mars
Devil May Cry 5
Monster Energy Supercross 2
Override: Mech City Brawl
Earth Defense Force 5
Additional Mission Pack 2: SUPER Challenge